Master Coffee Filter Former Machine Model E/F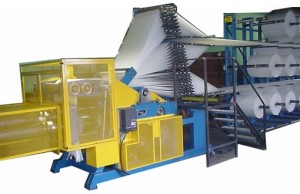 This is a larger version of our Model "E" Machine. It was designed to accept paper 30″ wide. By doing this we are able to install three, 4-1/2″x 10″, filter dies on it. This machine will also produce a complete line of Urn Filter Dies, up to 29″ in diameter. This results in an 18% paper savings for the user. We will design this machine to the customer's specifications. The machine requires a floor space of about 12′ wide x 80′ long and 10′ high. The total weight is approximately 22,000#, depending on how it is equipped. The electrical motor to drive this machine is a 15 Horse Power. The machine will run at 60 strokes per minute. The Cycle per minute is based on a number of variables – i.e. (Heat, Dwell Time, Open & Closed Flare of Cup, Type of Paper, Moisture Contents of Paper, Number of Sheets Per Nest and Weather Conditions.) There are no other electrics required. The purchaser will be required to supply steam up to 6 P.S.I.
The estimated time to produce a Model "E/F" Machine from receipt of the Purchase Order and deposit will be approximately six months.
Machine
Paper Width Maxim (30″)
Paper Width Minimum (16″ )
Paper Feed Rolls
Automatic A/C speed controls 0-60 cycles per minute, –AC Tech
Motor 15 H.P.
Braking System Warner 12″ Brake & 15″ Clutch
Voltage Motor – Choice
Air Operated Paper Pusher
Machine Width (5′)
Machine Length (12′)
Machine Height (8 1/2′)
Machine Weight (22,000 #)
Bull Gear System (24″)
Ram Inside Diameter (15′)
Ram Outside Diameter (16′)
Ram Bored For Triple Header (Yes)
Ram Bored For Double Header (Yes)
Guards (Standard)
Optional Standards, Domestic or International.
Painted (Choice)
Rack
Paper Width Minimum (30″)
Paper Maxim Diameter (30′)
Total Number Roll Stands (18)
Total Number Rolls Of Paper (54) (Optional Roll Stands Upon Request)
Brake Tension Control Manual Adjustment – Nylon
Rack Length (45 1/2′)
Rack Width (4″)
Rack Height (10″)
Steel Idler Rolls with Nylon Rollers
Internal Brake System