Fish Fillet Press Machine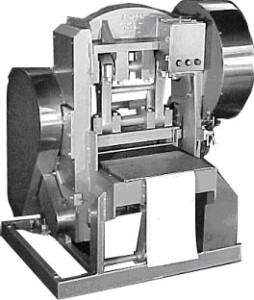 The Fish Fillet Press was designed to stamp simulated fish fillets from frozen shingles that are cut from preformed frozen blocks. When using the shingles they are usually cut into pieces of the approximate weight and size of the fish then manually loaded into magazines on the machine. Each shingle will be automatically pulled from the hopper on demand from the machine and position to the die area for forming, once formed each fillet is discharged to a stainless steel conveyor belt for processing. Along with the automatic pre cut loader from Pierce Fisheries of Gloucester MA., it enhances the labor savings and production of the Snyder Machine Fillet Press. The yield of this machine is determined by the amount of cavities that will fit into a 24″ long mold.
We have been building this machine for over thirty years. The machines today are much improved from the older versions. Today's machines are built with heavy steel castings. The movable head slides up and down in steel and cast iron gibbs. The head has heavy roller bearings pressing on a hardened shaft. The pusher plate is mounted onto a bronze slide. Stainless Steel guarding is done throughout the Machine which is all O.S.H.A. approved. The machine is powered with a 10 H.P. Sumitomo Variable Speed Drive, with a maximum output of approximately 45 strokes per minute. An "On & Off" switch mounted into a watertight stainless box controls this drive. The machine will have a Stainless Steel Pusher Plate and Conveyor to handle the finished product after it is formed from the press. All the mounting hardware for the molds is included. The machine is powder coated instead of galvanized.
Machine:
10 H.P. Motor
Sumitomo Variable Drive
8″ X 24″ head stamping area for mounting dies
Approved O.S.H.A Stainless Steel Guarding is done throughout the Machine
Stainless Steel Conveyor
Stainless Steel Pusher Plate
Stainless Steel Mounting Plate
Stainless Steel Mounting Hardware
Optional Reversing Switch